Kappa Puron® SC air filter
ensures optimum indoor air quality
Whether shared desk, job rotation or digital nomad environment. Strict presence-at-work models have been a thing of the past since the onset of the coronavirus pandemic. This is a view also shared by the Austrian Zukunftsinstitut.
In any case, work is no longer tied to one place, but has instead become more closely linked to mobility. A contemporary ventilation concept must take into account this fact of new mobility as well as the ability to introduce high-quality fresh air in a resource-saving manner.
Bolstering the team spirit through safety
The new workplace situation does not only bring advantages, however: A disadvantage of the more isolated work is that the so-called team spirit is somewhat affected. While we can talk business in the virtual realm, there isn't much room for water cooler chats.
This is one of the reasons why many people have decided to return to the office. And not just for the exchange ideas or to have lunch together, but to work together efficiently. In addition to changing workplace models, the pandemic has also led to greater emphasis on a safety-optimised workplace. Or, as DI Klaus Kremmair, Managing Director of Linz-based VACE Digital Solutions, puts it: »Nowadays, it is not enough to offer free apples in the office. Highly qualified workers demand that heir employers provide a holistically optimised workplace. The pandemic has made us pay greater attention to good air quality. With our new ventilation concept, we have found a way to meet the needs of our teams and offer them consistently high-quality indoor air. This allows our teams to work together again in person. It is an investment that not only has a positive effect on the employer-employee relationship, but also on our productivity.«
Mobile room air filter for healthy room air

Mr. Kremmair is referring to the Kappa Puron® SC room air filter, a high-performance air cleaner with HEPA Class H14 filter elements. This certification guarantees that 99.995% of all airborne pollutants such as viruses, bacteria and pollen are removed. Thanks to this top notch filtration property and a high air output, the room air can be continuously cleaned. The Puron® can be easily moved from room to room thanks to its castors. Its circular construction also provides a 360-degree effect; the most effective way to bring clean air back into the room. This is the only way to ensure that no energy is lost and that the draught-free air can reach even the far corners of the office. Mr. Kremmair is also impressed with the device's noise level, which is less than 42 dB(A). Thanks to its compact shape, the Kappa Puron® SC also has an extremely versatile range of applications: in reception areas, in offices and in meeting rooms. The room air filter not only ensures good air, but also trouble-free processes.
With the Puron® SC, companies now have a cost-effective means of doing justice to the changed concept of mobility and the safety requirements of their employees. In addition, they are provided with excellent and safe room air in the upcoming flu and pollen waves. And all of this with maximum efficiency and resource conservation.
LEARN MORE ABOUT
KAPPA PURON® SC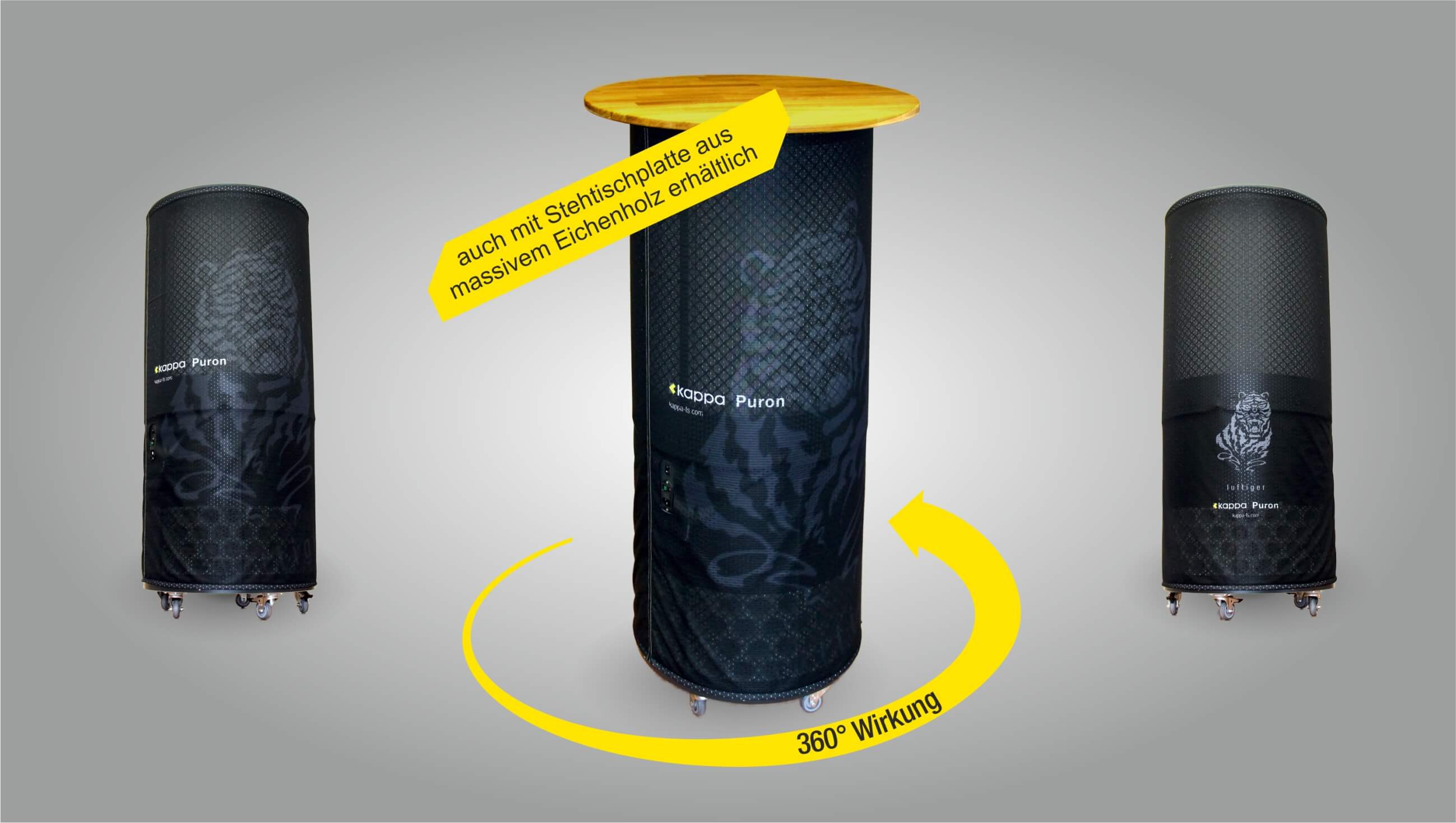 THE KAPPA PURON® SC
IS A BUILDING BLOCK OF OUR INITIATIVE
»A safe return to the office«
Good air quality depends on numerous factors. In order to reduce the associated complexity, we have developed the »A safe return to the office« initiative.
This initiative minimises the risk of infection, prevents absenteeism, reduces follow-up costs and even lowers energy consumption.
Because the key to a healthy and efficient office is the air.
Read More
back